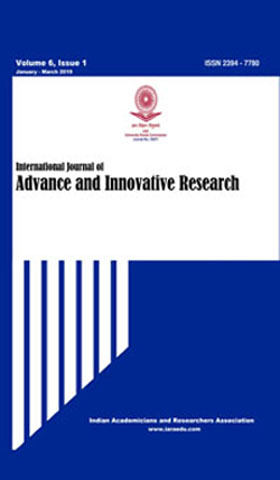 Journal Title
:
International Journal of Advance & Innovative Research
Editor In Chief
:
Dr. Tazyn Rahman
Subject
:
Multidiscipline
Journal Language
:
English

Frequency
:
Quarterly
Type of Journal
:
Online (Open Access )

ISSN
:
2394-7780
Year of Starting
:
2014
Published by
:
Indian Academicians and Researchers Association
LGF – 19, Mark Mall, Sector – 4B, Vasundhara, Ghaziabad, Uttar Pradesh, India
Paper Submission
:
submission@iaraedu.com / ijair@iaraedu.com
Current Issue Previous Issue
The International Journal of Advance and Innovative Research is an online open access, peer reviewed & refereed journal. Recently our journal has been included in UGC Approved List of Journals ( journal no: 63571) . The journal is published quarterly and provides a platform to academicians, consultants, policy makers, business managers and practitioners to publish high quality research work in the areas of Engineering, Science, Technology, Applied Sciences, Business Management and selected areas of social sciences i.e. political science, public administration, history, psychology etc.
The journal focuses on issues related to the development and implementation of new methodologies and technologies. The vision of the journal is to bequeath with academic podium to researchers across the globe to publish their original, innovative, pragmatic and high quality research work. The online version can be accessed and downloaded free of cost. The journal welcomes manuscript submissions from academicians, scholars, and practitioners across the world for possible publication.
The journal is having ISSN: 2394-7780 and SJIF Impact Factor: 7.36 and is presently indexed at Scientific Journal Impact Factor, ISRA, Index Copernicus, Cosmos Impact Factor, Global Impact Factor, Journal Factor, Researchbible, Jour Informatics, DIIF, Scholarsteer, Scientific Indexing Services, I2OR, Open Access Library, Citefactor, Google Scholar, ISIFI, etc.